Slide 1
DIGITAL TRANSFORMATION
Digital skills development training course
Digital skills development training course
Digital skills development training course
"Every day we ask ourselves - how can we make this customer happy? How can we do that by continuing along the path of innovation? - We ask ourselves because, if we don't, someone else will."
"Every day we ask ourselves - how can we make this customer happy? How can we do that by continuing along the path of innovation? - We ask ourselves because, if we don't, someone else will."
"Every day we ask ourselves - how can we make this customer happy? How can we do that by continuing along the path of innovation? - We ask ourselves because, if we don't, someone else will."
How digital is your organization?
Many managers struggle to answer this question for one simple reason.
They themselves have a need to improve their digital skills.
Stra-Le proposes a path of growth and training that starts from the following consideration: the first step is to develop managers' personal digital skills.
The development of software technologies due to the previous point.
This revolution is profoundly changing the behaviors of the most capable (smart) people who see enabled by these technologies much more efficient, effective, and autonomous ways of working.
The course is aimed at managers and professionals involved in enterprise digital transformation processes.
The modalities for developing digital skills are very concrete, one or more workshops based on practical experiences. Together with managers, exercises are developed using real Web tools or other digital tools. For example, you build a blog together, run Google campaigns or use social media in different ways.
One can work alongside the manager for a certain period of time, with a well-defined schedule of meetings and established goals and tasks a
D I G I T A L C O A C H.
These digital coaching programs also focus on concrete, hands-on experiences to accelerate learning and make it as engaging as possible.
The goal in this case is organizational.
Develop managers' skills that relate to a specific enterprise theme. For example, the ability to set up and implement communication campaigns using various digital tools.
The methodology for this goal is also based on "doing." Specifically, in one or more classroom meetings, some activities are set up that can then have a concrete follow-up for the organization.
Learning is very experiential with reference to a specific theme, context and goals of the enterprise.
What strategy to adopt for enterprise digital transformation?
In a workshop, we start with a competitive assessment. Who among the competitors has the most effective digital strategy? The components of digital success of the brightest competitors are analyzed.
This is followed by a digital assessment of one's organization using some tools of our own devising.
Interventions are hypothesized and the potential R O D I of these digital investments (Return On Digital Investments) is assessed. Its feasibility in terms of resources and organizational capacity is assessed.
Focus on the digital plan. You reason with management about the enterprise's digital plan.
Digital strategy is set. Activities are hypothesized.
The digital transformation plan is developed. The different activities are established.
Plan design and implementation is the focus of management and organizational skill development.
Have a comprehensive overview of digital transformation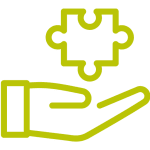 Acquire the skills needed to understand and participate in the digital transformation of the enterprise

Be able to lead change for digital transformation of the enterprise

OVERVIEW
Have a comprehensive overview of digital transformation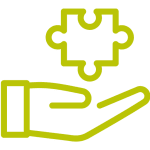 SKILLS
Acquire the skills needed to understand and participate in the digital transformation of the enterprise

CHANGE
Be able to lead change for digital transformation of the enterprise